Peter Marino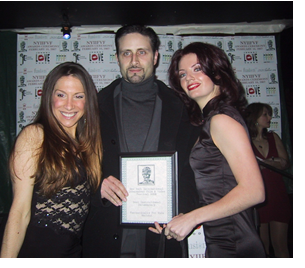 Peter graduated from Brooklyn College with a Bachelors Degree in Athletic Training. He has also finished his Plan IV requirements and extensive study at Hunter College to be eligible for internship as a Registered Dietician. Peter is certified as a Health Coach (ACE), Nutrition Specialist (CNS), a Fitness Educator (CFE), a Golf Conditioning Specialist, a Kettlebell Instructor (by Kettlebell Concepts), and a C.O.R.E. Trainer. Peter Marino has given interactive seminars on nutrition and fitness for healthcare clinics, Morgan Stanley, IBM, Alliance Bernstein and the Hotel Union of New York where he has also provided one on one counseling.
He has written for many magazines and websites such as: Men's Exercise, Natural Bodybuilding, and Gym Magazine, where he has written about strength training and nutrition. He has appeared on ABC NEWS Channel 7 for a home fitness training segment and NEWS 12 Westchester for a New Year's Resolution home fitness training segment. Peter had a unique kids fitness DVD entitled Fantastically Fit Kids™ which won the Best Instructional Documentary Award in 2006.
In the 1990's Peter was a competitive bodybuilder who won the overall Constitution State Championships in CT in his very first competition. He placed in the top 5 for numerous other state and regional competitions for the 5 years he competed in bodybuilding.

Due to increased demand and business responsibilities Peter can only be hired on a limited time basis as a health coach and personal trainer. Please inquire directly at: peter@poshfitness.com.
Peter's specialties in health and fitness are:

Balance Training

Bodybuilding/Body Shaping
A Scientific & Fun Approach
A
We'll evaluate you then discuss with you your goals and the best techniques for attaining those goals within your lifestyle.
B
After your evaluation we'll develop a fitness program that fits your lifestyle and goals.
c
After your evaluation and fitness programming we'll develop a nutrtiton plan and lifestyle modification program that is flexible and suited to your goals.
Rather Come to Us?

White Plains Gym Address with
RetroActive Fitness
249 Ferris Ave - Westview Ave entrance

White Plains, NY 10603